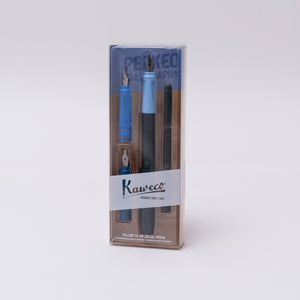 This Kaweco Perkeo calligraphy gift set from Germany, comes with one full sized pen, two additional interchangeable front nib/grip sections, and several ink cartridges. The three silver stainless steel nibs are in sizes 1.1mm stub, 1.5mm stub, and 1.9mm stub. 

The Perkeo is an entry-level full-sized pen from Kaweco. The faceted body, grip, and cap are made of resin, and the triangular grip helps keep your fingers in the proper grip position.
The Perkeo accepts standard international ink cartridges.