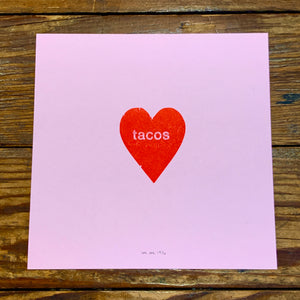 Our in-house studio consist of 3 cylinder floor presses (Vandercook 325A, Vandercook Power 219 and a Challenge Proof Press 15GP), 1 table top platen press (Chandler & Price) and antique wood and metal type. 
Yum!

3 color typeset letterpress print 

printed on French Paper Co | Pop Tone : Cotton Candy 
100lb Cover Stock

size : 6" x 6"
 Color on screen may not be exact color as print