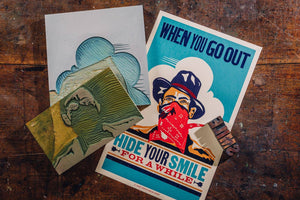 Hatch Show Print, a working letterpress print shop since 1879, uses its vast collection of vintage type and hand-carved imagery to create timeless designs that express and commemorate America's evolving cultural identity. 
Make 'em smile when they can't see yours! A poster print block made for the 1939 movie Jesse James sports our favorite bandana.  This reimagined PSA for an unforgettable image in an unforgettable time.
Size: 13" x 22"
Actual Size may vary.
Letterpress print.

Printed on a Vandercook Universal I, or Miehle 29.
Handmade in Nashville, Tennessee.
Color on screen may not be exact color as print.