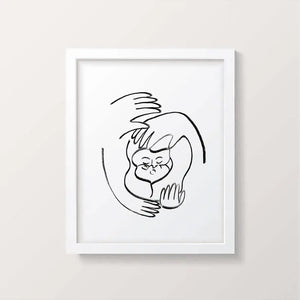 Explore People I've Loved, a printmaking workshop based in Oakland, California, dedicated to fostering genuine human connections. Founded in 2011 by Carissa Potter, our hand-printed and assembled objects aim to facilitate meaningful communication in a digital age. Carissa considers each creation a form of performance art, choreographing interactions between individuals in various relationships. Our product line celebrates a range of emotions, from nostalgia to hope for the future, as we delve into the profound essence of existence in this time and space. With a collaborative approach, we address issues and interests as a team to authentically assist people on their life journey, reminding them that things will turn out alright.
11x14

Letterpress printed by hand

Each print will be unique and one of a kind - slight variations make it special.

On 100% cotton Cranes 110 lb lettra paper.
 Color on screen may not be exact color as product