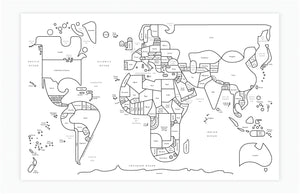 Archie Archambault is a designer and printer living in New York.  The best way to get un-lost is draw a map, and when he drew a circular map of Portland, Archie's Press was born. The idea unfolded into many other maps of different subjects, showing their structures in simple and intuitive ways.
Aries: The Ram. Everything about the most strong-willed sign of the Zodiac. This map includes all the qualities and relationships affecting these strong-as-hell people. Unsurprisingly ruled by the color red, the element fire and the planet Mars. You're lucky to get their attention and even luckier to gain their affection. Well worth the effort.
one color letterpress print
printed on heavy stock paper
size: 11"x17"
Color on screen may not be exact color as print